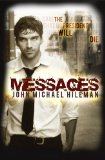 I'm honored to announce a book that you need to read. The title is
Messages,
by John Michael Hileman. It's next on my list. I love reading a good book. It's my form of relaxation. I skip the TV and rarely watch movies. When my ministry work is done and study time complete, I like to relax with a good book. It frustrates me to pay good money for a book to discover it contains filth and junk I don't want to read about. So, to find a Christian writer is a treat. There are so few out there. The Amazon description says:
Words are everywhere-- on labels, magazines, sign posts, t-shirts-- everywhere. And as much as David Chance would like to hide from them, he can't. Words keep leaping off objects around him, forming messages in his mind. But how is this possible? Has his brain suddenly taken an evolutionary leap forward, or are the mysterious messages proof of divine intervention? Does God really exist? Driven to answer a question he'd long ago abandoned, and stalked by the killer he's trying to stop, David risks everything to follow the messages to a dirty bomb set to go off in the heart of Boston. But can he trust the author of the messages to protect him from a terrorist who seems to know his every move.
This is the next download on my Kindle. Thanks Michael, keep up the good work.