Galatians
P

aul wrote the book of Galatians.

In the letter he writes about the Jerusalem council, so the letter must have been written shortly after that event in A.D. 49.

Galatia was a region in central Asia Minor.

The region of Galatia became associated with that entire area under the Roman rule.
P

aul founded churches in the southern Galatian cities of Antioch, Iconium, Lystra and Derbe.

We see this in Acts 13.

Paul wrote this letter to these churches and to the believers in that area to speak out against the false teachers who were undermining the doctrine of justification by faith.

These teachers were saying that you first had to become Jewish Proselytes and submit to the Mosaic law before you could become a Christian.

Paul was shocked to hear the churches were open to this idea and he wrote to them to defend justification by faith.

He also warned them of the consequences of abandoning such an essential doctrine.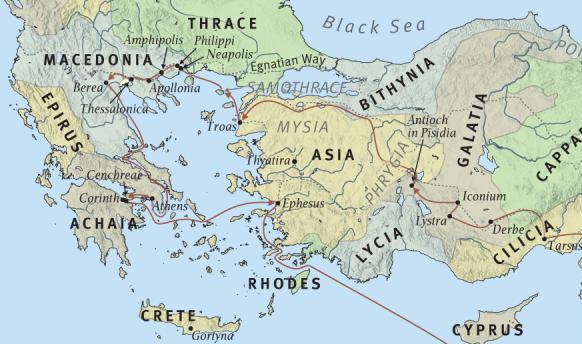 © 2009 Doug Ford
No distribution beyond personal use without permission.
Bear and Share the Burdens;
Be Generous and Do Good;
Glory Only in the Cross;
Blessing and a Plea