2 Corinthians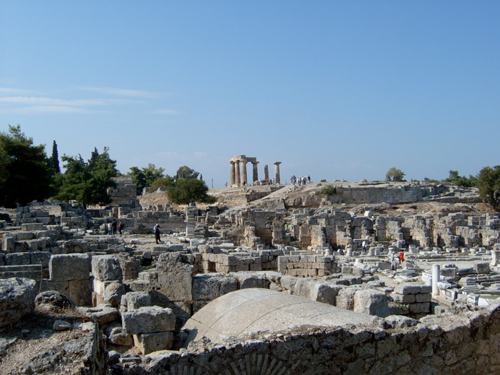 When Paul first went to Corinth on his second missionary journey, he stayed for 1-1/2 years. Right after he left, he heard of immorality in the church and he wrote them a letter to confront that sin. This letter was lost and we really don't know what it said. Paul was then in Ephesus on his 3rd missionary journey when someone wrote to Paul detailing some problems. Then others asked questions about how to deal with some issues. Paul responded in letter. This letter is what we call 1st Corinthians. It was written about 55 A.D. After this letter was received and while Paul was still in Ephesus on the 3rd missionary journey he received news that things still weren't going well in Corinth. There were 'false apostles' there and in order to sway people to their doctrine they were attacking Paul's character and his apostleship. Paul immediately went to Corinth to set things straight. This visit didn't go too well. As Paul tried to help and correct the church he founded, he found that people were confrontational and looking for a fight. At least one of these 'false apostles' openly insulted Paul in front of the congregations. There was a battle for control of the church.
Paul went to Corinth after the letter of first Corinthians, he was deeply saddened. He had such a love and concern for these people. Yet, they seemed to have turned their back on him. Paul returned to Ephesus somewhat heartbroken. From there he wrote another letter, this one was called the severe letter. Titus delivered this letter to Corinth. We don't really know what it said because it was lost. Right after Titus delivered that letter, Paul left Ephesus because of the riot sparked by Demetrius. Paul went to Troas but he was so anxious to find out how this severe letter was received that he couldn't even minister there. He searched for Titus and finally caught up with him. Titus gave him the good news that those in Corinth who had rebelled against him had repented. That was great news for Paul and after receiving it is when Paul sits down and writes this letter of 2 Corinthians. The setting and the tone of this letter is the great sense of relief at the church having come to its senses about these 'false apostles' teaching.
© 2010 Doug Ford
No distribution beyond personal use without permission.
Paul explains why he didn't come to them and wrote the severe letter instead. The Triumph of Christ.